When we met Katie, she was sleeping in a dilapidated house made out of old iron sheets. Her family had chased her away from home when she gave birth. She was forced to stay with the father of her child but he disappeared after just one month leaving Katie and her daughter in a rented house.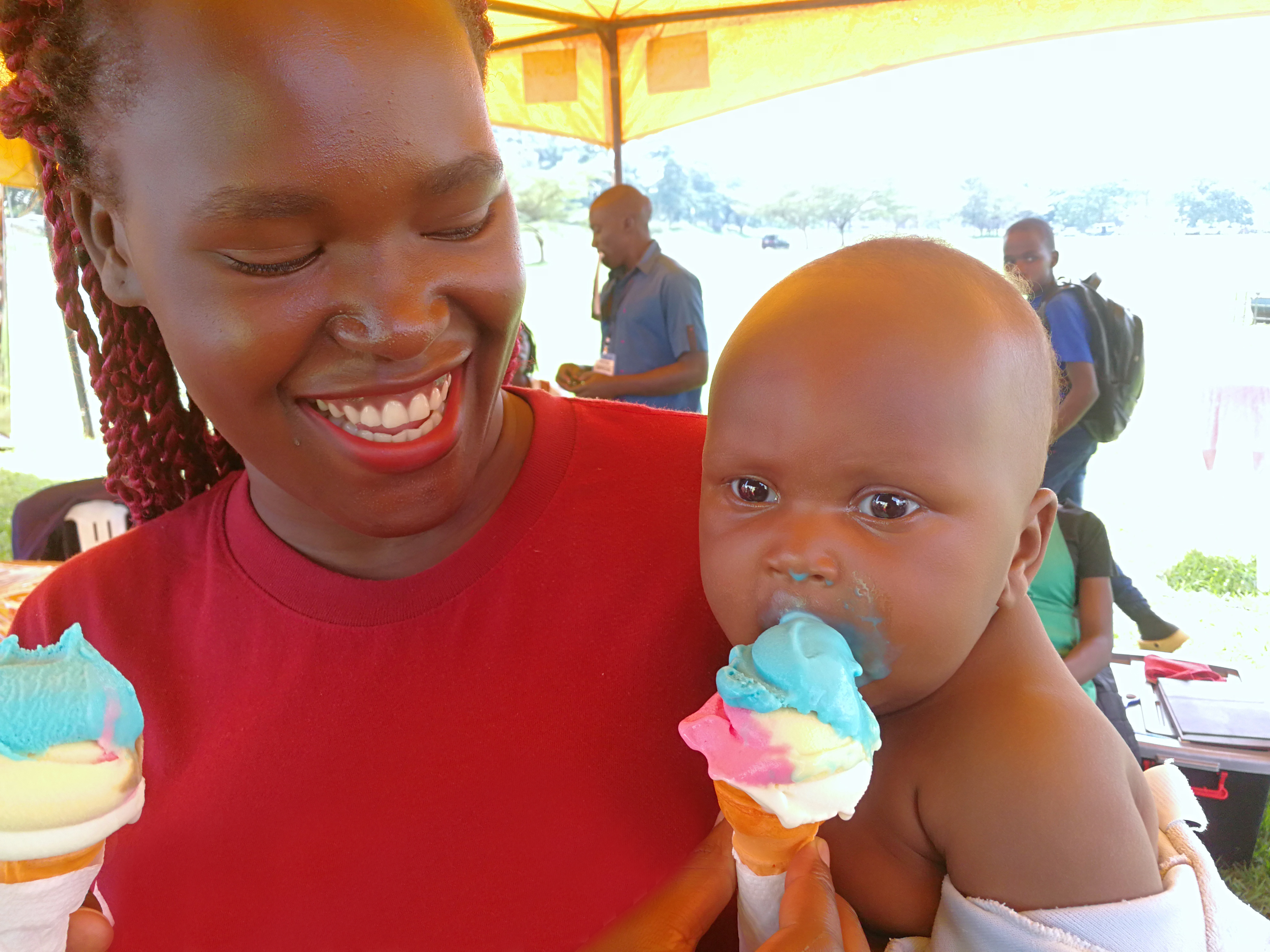 Katie couldn't afford to pay the rent; her landlord took the few household items she had and threw her out of the house. Katie was homeless for a few days until she found some old iron sheets to erect a temporary shelter. Whenever it rained, Katie would hold her child and stay standing all night because her "house" flooded.
Katie heard about our partners, The Remnant Generation, through a friend. She came to their offices and asked to join the School of Purpose. But after their social workers conducted the home visit, they realized she also needed to be rescued; she was brought to the Princess Shelter with her baby.
Katie is now learning tailoring as her main course. She has also been working hard in the catering class and crafts making class.
Recently, the girls came up with an idea to sell crafts at local churches each Sunday. They have been working hard to make beautiful pieces. Katie always has the highest number of pieces. Her hard work is paying off. Every time they are ready to split the profits, she gets paid more than anyone else.
Katie is also very active in catering. She and a group of five other students are providing catering services. Our Business Development Manager identifies opportunities for these girls to do business and the feedback from clients has been very good. The girls recently secured their first major venture, catering a wedding with over 300 guests!
Katie's dream is to start a restaurant that also provides outside catering services. She also wants to develop her fashion design skills. She wants to give her baby a beautiful future.
September 2020: Business Training for Teachers

Finding an Alternativ

Pastor Deo did his best to provide for the teachers of Treasured Kids Elementary School during the pandemic. When the school closed, he still found a way to pay the teachers and even went so far as to provide them with food. Recongnizing that this is not sustainable, Deo has committed to providing the staff with an opportunity to flourish without their teachers salary.

Impact Nations is partnering with Kosovo Community Sacco (Savings and Credit Co-operative) to provide the teachers and other members of the community with the Alternativ basic business training. Once their training is complete, graduates will receive start-up capital from our friends at Children Arise Ministries.

August 2020: Perseverence in Uganda

Surviving COVID

Entrepreneurs in Uganda who received micro loans in January have struggled to keep their businesses alive through lockdown but they made it. Now, with restrictions slowly lifting, they are regaining their customer base. The slow market during the lockdown months forced them to diversify and now many of them are making better money because of their expanded inventory.

"I am one of the entrepreneurs that delayed starting a business because money was not enough to start a stationery shop as I had planned but in the process I got a new idea of selling popcorns because there was no one making them in Kalonga. I bought the charcoal Popcorn machine and remained with only 60,000Shs to rent a place and to buy supplies. I decided to work from a friend's front door and used the 60,000shs to buy supplies and started business. I was overwhelmed by customers and by the time of lock down almost everyone in Kalonga knew about my business, I continued making Popcorns inside my house and people still came for them because they are affordable (starting at 500Shs a person can have some to eat) . I make between 10,000shs to 20,000shs profit per day. In a period of 4months, I bought a second Charcoal popcorn machine and also completed my group savings."

January 2020: INDIA

Expansion in India

Chandigarh, India - Three of our Alternativ Basic Business trainers traveled from Nepal to India to introduce this vital curriculum to our India Sewing Center. This will expand the vision and potential for women in India; just like it has in Uganda and Nepal. After becoming empowered by the business training, many women have a dream to start their own business. Small loans give these entrepreneurs the boost that they need to to become self-sufficient.

This train-the-trainer course provided business training for 36 students, ranging from age 15 to 51. At the same time, six facilitators were equipped to bring the material to future students.

One of the trainers reported, "There is a mother of five here who brings her babe in arms and 9 year old daughter. The 9 year old is doing all the workbook activities and answering questions. She's definitely my youngest student yet and I'm hoping what she learns empowers change in her life. We are here changing mindsets!"

"This training had a great impact on the people around us. It has taught us very small basics that we often miss when starting up a business and end up failing in that business. This training has not only taught us to do business but also to run our homes effectively. Everyone who attended this training was so happy and encouraged. We want to thank you for bringing the team here and for the training."
- Meenakshi, New Life City Foundation

December 2019: BINITA

Meet Binita

Kathmandu, Nepal - Impact Nations is partnering with several entrepreneurs in Nepal to help them realize their business dreams. Recently received this great report from our friend, Binita:

Thanks for the money that you had given for my business. I am blessed and happy to run Bonita's Bakery with the help of Impact Nations. From the start-up fund I bought a big oven, freezer, mixer, supplies, and others. All are running well and I am happy to use and learn many things.

Among all the things, I also took money from start-up fund and had got to learn scooter from driving school. So, I passed the scooter trial and recently I bought a new scooter with my own money. Now it is easy to deliver the cakes and buy supplies and have a good time management. So from the Bonita's Bakery people are loving our cakes. They feel like among all the bakeries, they love our taste and they are giving good feedback. Actually it gives me more courage and need to do more things.

So recently, I did a record keeping on December and found that the Bonita's Bakery income was NPR 15,700 ($135 USD) and the expense was like NPR 4,605 ($40 USD). So the first time I put the tithe from Bonita's Bakery. It feels happy and blessed, so thank you again and please still remember in your prayers.

If Bonita's Bakery gets more order, then I can hire staff from House of Hope woman/girls. It helps me and they will be empowered so, still I am learning to bake and decorate the cakes. So, I am searching the place where I can learn the skills of decorating cakes. For the marketing, we are making promotion videos and a social media. We are also participating in events. A lot of business comes from word of mouth.

- Binita Lama

May 2019: SIDET

Meet Sidet

Kampala, Uganda - After completing the Alternativ business training, Sidet used her small loan of $100 to start a restaurant!