Impact Nations International (INI) has had close ties with the Philippines since around 2008. We have taken Journeys of Compassion to different areas. In the last 5 years we have been taking teams into Eastern Samar where we have developed close working relationships with local Pastors.
Along with the INI Journeys of Compassion, Impact Nations Australia (INA) has been taking water filters into the schools of Eastern Samar on an ongoing basis for the last 2 years, further developing our relationships in the area with local Mayors and Barangay Captains.
Our last trip to Eastern Samar was in February, just before the borders were closed due to Covid 19. Like many other nations around the world, the Philippines went into lockdown, which created great need among the people. Eastern Samar is an extremely poor area where a majority of the people work for daily wages earning enough each day to feed their families. Because of the generosity of our donors we were able to establish feeding programs with Pastor Ronnalyn and Pastor Robert in two of the major towns.
On May 14th 2020, to make matters worse for the people of Eastern Samar, the northern part of their island, where pastor Ronnalyn lives, was ravaged by Typhoon Ambo, bringing devastation to an estimated 47,000 families. As a result, streets were flooded, their homes collapsed, and water supplies contaminated.
Typhoon Ambo destroyed Ronnalyn's home and church. She now had nowhere to distribute food from. In fact, she had nowhere to call home.
One of our team reported that one man called in tears:
"Somebody from Jipapad called me yesterday begging for our help through water filters because the whole town of Jipapad was flashed out with muddy flood and so the drinking water is very critical for their health. He said that if they will have a water filter they can get water from the river and that will sustain them for a long period."
Immediately INI and INA together established a project to provide water filters and to repair Pastor Ronnalyn's home.
The response was exciting and overwhelming as the money came in from around the world to assist our brothers and sisters in Eastern Samar.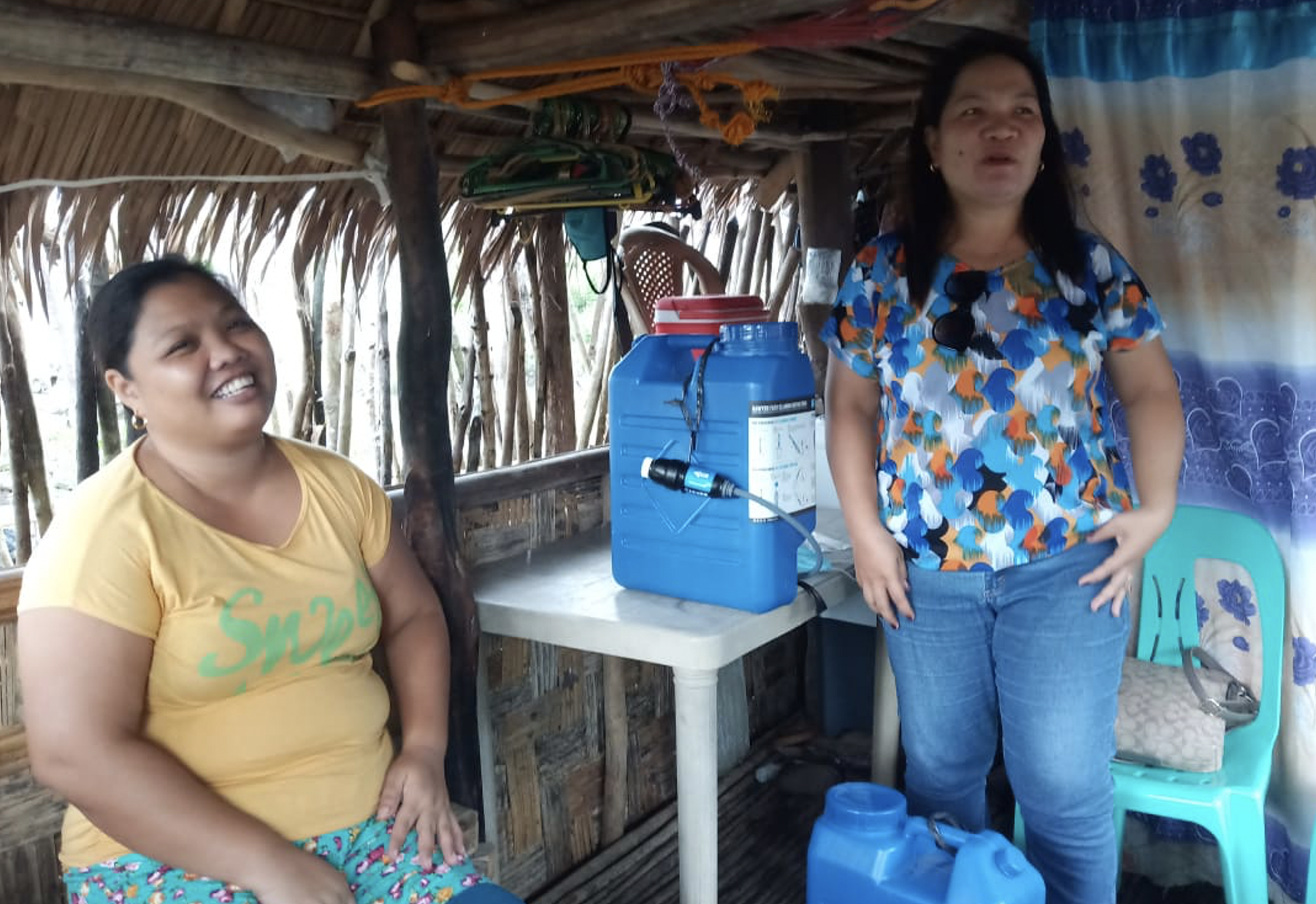 We were able to send 200 water filters to Borongan City from where they have been distributed in batches by our team on the ground – Pastor Ronnalyn, Pastor Robert, Pastor Nathan and Bing with a number of other volunteers assisting them. This task will be completed this weekend. The team has overcome many obstacles – delays in transporting the filters, delays in customs, Covid-19 lockdowns and continuing storms and heavy rain. The team have travelled long distances to get to affected areas, up to 5 hours each way in road travel on difficult roads. They have travelled up rivers by boat into very remote areas, including one where other groups have not been able to go before.
People were overwhelmed with delight to receive the filters, children were sick with drinking contaminated water, now they had clean water. It is reported that many people received the filters with tears. Local mayors and authorities supported the team in every way they could as they gratefully received help and love for their communities.
While these filters have been being distributed, Pastor Ronnalyn and Pastor Robert have continued to distribute food packs each week, travelling to many surrounding areas.
Also in this time the reconstruction of Pastor Ronnalyn's house for her and her four children has been taking place. I cannot express in words the delight of this family and their community for the provision of safe shelter for them. Pastor Ronnalyn now has a place to sort and distribute food, her family and neighbours find shelter in the storms, as she serves her community. She Ronnalyn shared with me that her son had his birthday this last week – he was given 900 pesos in gifts – around US$18. Instead of spending it on himself he went out and bought food and gave to friends and neighbours that were hungry.
As this project has progressed, I have heard nothing but deep gratitude and thanksgiving from all the recipients. To all our donors and to the team on the ground I want to send our heartfelt thanks for your compassion and love that has rescued lives in this very difficult season.
-Sue Walker