First John Week Two
---
Not A Trickle Down Gospel: A Discussion with Matt McDonald, and Chris Armistad
---
Thank You!
---
The Pastor: A Crisis
---
Mike and Annabelle
---
First John Week One
---
Prophetic Church (Pt. 4)- Upward, Inward, Outward
---
Prophetic Church with Fini & Isi de Gersigny
---
A Prophetic Church for Today- Part 2
---
No Middle Ground- A Prophetic Church for Today
Steve discusses how we are now in the midst of a Spirit-anointed time (Lu 4:18). For us as believers and a part of His Church,THERE IS NO MIDDLE GROUND. Either we will silently embrace the world's system, or we will speak and live prophetically.
Steve explores what it really means to be a prophetic Church in these days. (WARNING: What he has to say will likely be discomforting.)
---
Speak Life and Prophesy to the Dry Bones
Tonight, Christina is teaching out of Ezekial 37.
Don't miss our Global House church on Zoom immediately following tonight's teaching. You can find the link to join in the chat box in the lower right of your screen.
---
Live with Brad Jersak
Welcome to a live recording of the Impact Nations podcast. Tonight, Brad Jersak discusses the Old Testament and gives guidance on how to read it this side of the cross.
Brad's latest book, "The Pastor: A Crisis" is now available for pre-order. https://www.amazon.com/Pastor-Crisis-Bradley-Jersak/dp/1732741751
To subscribe to the Impact Nations Podcast, go to www.impactnations.com/podcast
---
Special Update from Steve & Tim
What God has done in the first six months of 2020 and a look to the future.
---
Live with Richard in Uganda
---
The Sermon on the Mount
Steve continues his series on Matthew 5-7. Tonight's passage is "Do not think that I have come to abolish the law or the prophets..." Matthew 5:17
---
Live Worship
Join Tim & Bethany Stewart right here for live worship on Thursday June 18th at 7pm MDT.
Thanks for joining us to worship the King of Kings!
Tonight's songs:
Raise a Hallelujah | Wanna Be Like You | O Come to the Altar | Jesus Paid It All
---
The Sermon on the Mount
Having completed the beatitudes last week, Steve is continuing to teach through the Sermon on the Mount. Tonight: Salt and Light.
---
Beatitudes Part 12
---
A Converstaion on Race
What does it mean to be peacemakers during the Black Lives Matter movement?
---
Interview with Randeep
Today we are speaking with our friend Randeep. He and his team are feeding as many as 1500 people per day in Northern India. The pandemic has completely shut down the Indian economy and people are desperate for food and hope.

If you would like to help Randeep feed the hungry, visit www.impactnations.com/feeding
---
Beatitudes Part 11
Blessed are the peacemakers
---
Feeding In Bulgaria
Ivan and DeeDee are feeding families in the Roma villages in Bulgaria during the pandemic.
---
Beatitudes Part 10
---
Beatitudes Part 9
---
Impact Family Worship Night
---
Live with Trinity from Uganda
You can provide internet for 24 students for a week for only $65. To give, click here.
---
Crazy Love's Vision
---
Beatitudes Part 8
---
Podcast 3-19
We're chatting with Brad Jersak about the resurrection.
---
The Beatitudes Part 7 with Steve Stewart
Blessed are the merciful, for they shall receive mercy.
This beatitude invites and challenges us to open our hearts and minds to the essence of who God is, and therefore, what He calls us to be.
---
Interview with Carlos in Colombia
---
The Beatitudes Part 6
Steve is teaching on Matthew 5:6
Don't miss our Global House Church on Zoom immediately following tonight's teaching. Check the chat box in your lower right for the link!
---
---
Interview with Wm Paul Young
Join us here on Wednesday April 22nd (10am PDT/11am MDT) for a live broadcast of the Impact Nations Podcast.
We will be joined by special guest, Wm Paul Young, author of The Shack
This broadcast is presented by our COVID-19 feeding program. Join us as we feed those who are starving as a result of the current crisis. We are currently striving to feed families in the slums of Kampala. To learn more, visit www.impactnations.com/feeding
---
The Beatitudes Part 6 with Brad Jersak
Brad Jersak claims that the Sermon on the Mount is Christ's radical program of recovery, the Jesus Way to freedom and the Cross-Way into his Kingdom. Join us as he ponders the Beatitudes and beyond.
Click here to purchase Brad's book A More Christlike Way.
---
Interview with Brad Jersak
---
The Beatitudes Part 5
---
A Message from Steve
We recently brought a number of our international partners together for a Zoom meeting; we invited those who are on the front lines each day, distributing food to the desperately hungry. Christina, Tim, Sue Walker and I managed to gather six partners from Uganda, Kenya, India and the Philippines. I had set an hour aside, but we talked for a full two hours. The meeting had several purposes: Read more...
It was the first time some of them had ever met each other.
It gave an opportunity to describe the unique challenges they are facing as they seek to get food to the very hungry in their communities (in fact, some are actually threatened with starvation).
They were able to share creative ideas among themselves.
We were able to encourage them, to express our deep appreciation for all they are doing, and to pray for them.
It was so important to give these partners the opportunity to share their stories with each other. At the same time, hearing accounts of what is going on in the slums and villages was a very sobering experience. Our partners, and those working with them, are making huge sacrifices that we in the West cannot fully fathom. They are laying everything on the line: their personal finances, their time and energy (they are working extremely long hours every day), and their own personal safety and health.
It is important for those of us living in the West to understand that in the developing world, the economic structure for the poor has not changed in millennia––the laborer works all day, then he receives his pay for that day; this is how he provides food for his family's dinner. There is no monthly paycheck; there is no unemployment or welfare. When the businesses and farms were shut down by the government in response to the pandemic, that day, all financial provision ceased.
Since the time of the early church, history records that with each plague that came, it was the Christians who put themselves in danger in order to care for the sick and the needy. Once again, this is true. Here are just a very few examples from yesterday's meeting:
When Richard's team in Kalonga, Uganda arrived at "the widows' land" with enough food packets to feed everyone (250) for two weeks, they were met with great emotion from the community. They had run out of food; in their hunger, they had been eating the seed meant for planting this season's crop.
Trinity and his team live and work in two slums in Kampala. The residents live in a "rabbit warren" of shacks and winding lanes. There is no land available to even plant vegetables. Trinity worked with a man who owns a grocery store, to purchase enough food for 400 families (abut 2,400 people). He then distributed tickets to each household. On Saturday, they will exchanged the tickets for the provisions––enough for two weeks. In this way, the people will not have to gather in unsafe crowds. As well, Trinity is helping the economy of the two slums.
The Impact Australia team has been working for over a year now on getting water filters to thousands of school children and hundreds of homes. Building upon this network of relationships, our Philippine partners are distributing family food packets through east Samar with great efficiency.
Joseph, our partner in rural west Kenya has been overseeing the operation of a school for poor children. Once the pandemic began in Kenya, the government required that all the children return to their homes. However, sixty boys and girls had nowhere to return to. Joseph and his team are providing full care for them, including feeding the children. This had become extremely difficult, since the ten churches that usually provide financial support have all closed down.
Annabelle, our partner in Kampala, has 16 teenaged girls and their babies living with her and the Remnant Generation team. She shared stories of beaten and abused girls showing up at her door with nowhere else to go. (Domestic abuse is skyrocketing in Uganda and Kenya.) No-one is allowed to walk on the streets. We listened as the Africans exchanged stories of being beaten with sticks by the soldiers and policemen who patrol the streets. So, getting groceries is a great challenge (no private cars are allowed out). They are now scrambling to find bulk supplies of corn flour and beans, since the store shelves are largely empty.
Some of our partners have discovered that there are many families who have no access to fuel, so the team must transport cooked food, as well as the food packages.
These are only a few "bare-bones" stories from two hours of sharing, crying and praying.
Impact Nations began 16 years ago with two words: Rescuing Lives; it is our mandate from the Lord. During this pandemic, we are paring everything down to one thing: we will feed the hungry in the poorest nations where we work. The global situation has meant that, for now, we cannot visit houses to distribute water filters; men and women cannot gather in our various training centers or small businesses; the children cannot attend Hope & Care School; we cannot operate medical clinics. But we can do our best to ensure that men, women and children do not starve. By providing food, they can live.
Join us in this great purpose. 100% of every gift is going directly to our partners so that they can purchase food. Often, money that is given today, actually becomes food in someone's hand three days later. We can do this. For many in the West, it is a frightening and uncertain time. In the face of that, I ask you to give what you can so that our brothers and sisters in Africa and Asia can eat.
Please go to www.impactnations.com/feeding. Remember, 100% of it will become food in someone's hands.
Together for the sake of Christ,
Steve
1Now I want you to know, dear brothers and sisters, what God in his kindness has done through the churches in Macedonia. 2They are being tested by many troubles, and they are very poor. But they are also filled with abundant joy, which has overflowed in rich generosity. 3For I can testify that they gave not only what they could afford, but far more. And they did it of their own free will. (2 Cor 8:1-3)
---
Rapid Response in Katanga
Trinity and his team from Era92 have found a creative way to feed the poor. Duirng the COVID lockdown, chairty feeding is illegal. Trinity has found a creative way to get around this and keep the starving poor alive. Click here to read the full report.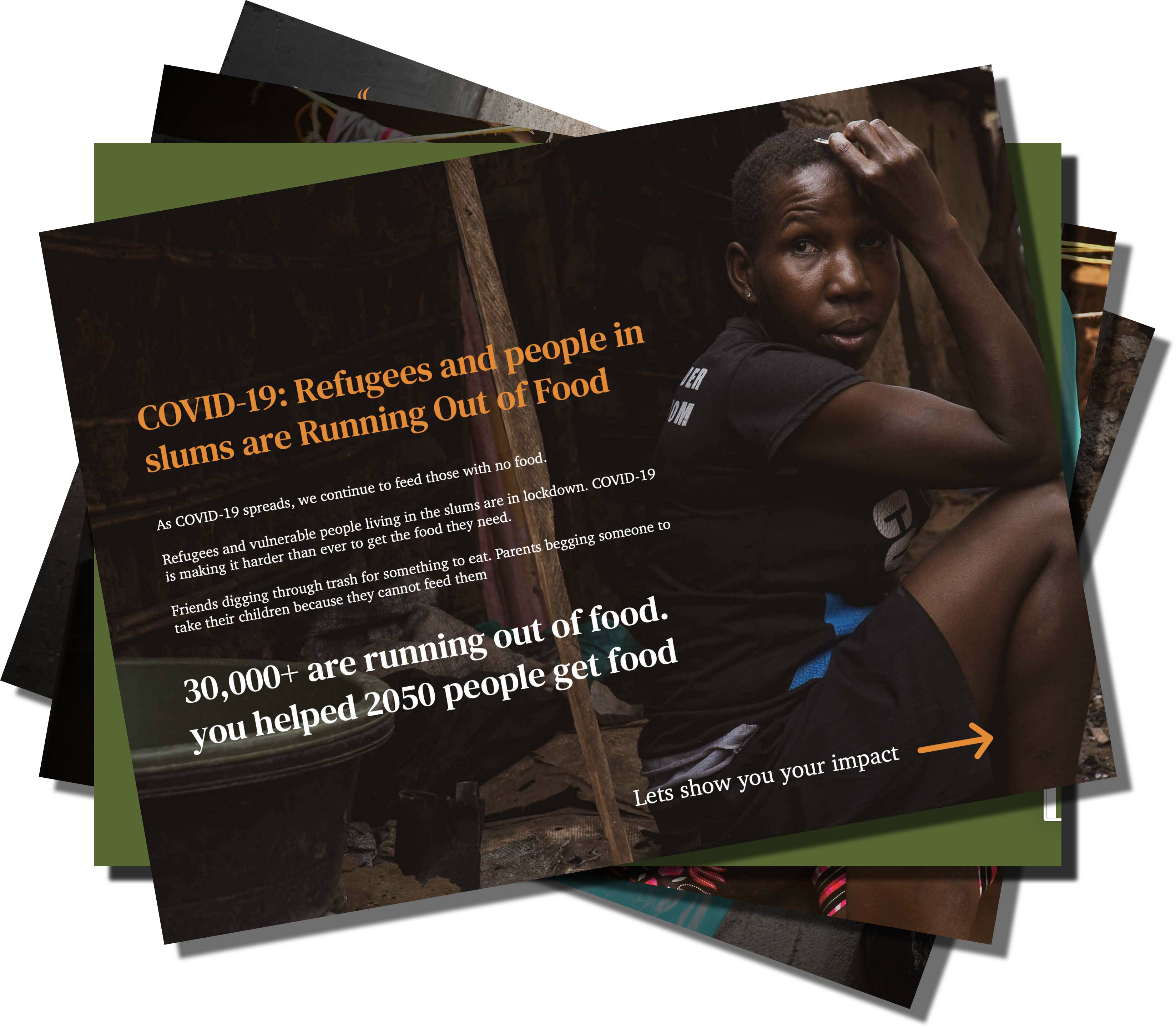 ---
Live with Trinity in Katanga
---
He is Risen!
Christ's Resurrection is a joyous occasion. Even if we are in our homes today. Take a moment to reflect on the wonder of the Resurrection with Steve today.
---
The Second Day
Have you ever considered what happened to Jesus on the second day?
---
Good Friday with Steve
As we observe good Friday from our homes today, take some time with Steve Stewart to consider the profound love of Christ's work on the cross.
---
"They Shall Be Comforted"
Join Christina as she shares her thoughts on Matthew 5:4
Be sure to join us for our Global House Church on Zoom immediately following tonight's teaching. The link will be posted in the chat box in the lower right of your screen.
---
Interview with Annabelle
Today we are learning what life is like in Kampala for our friends at The Remnant Generation during the coronavirus crisis.
---
The Power of Sabbath Rest
With everyone at home for the forseeable future, now is the perfect time for Steve to release his newest e-book The Power of Sabbath Rest.
Click here to download it for free right now.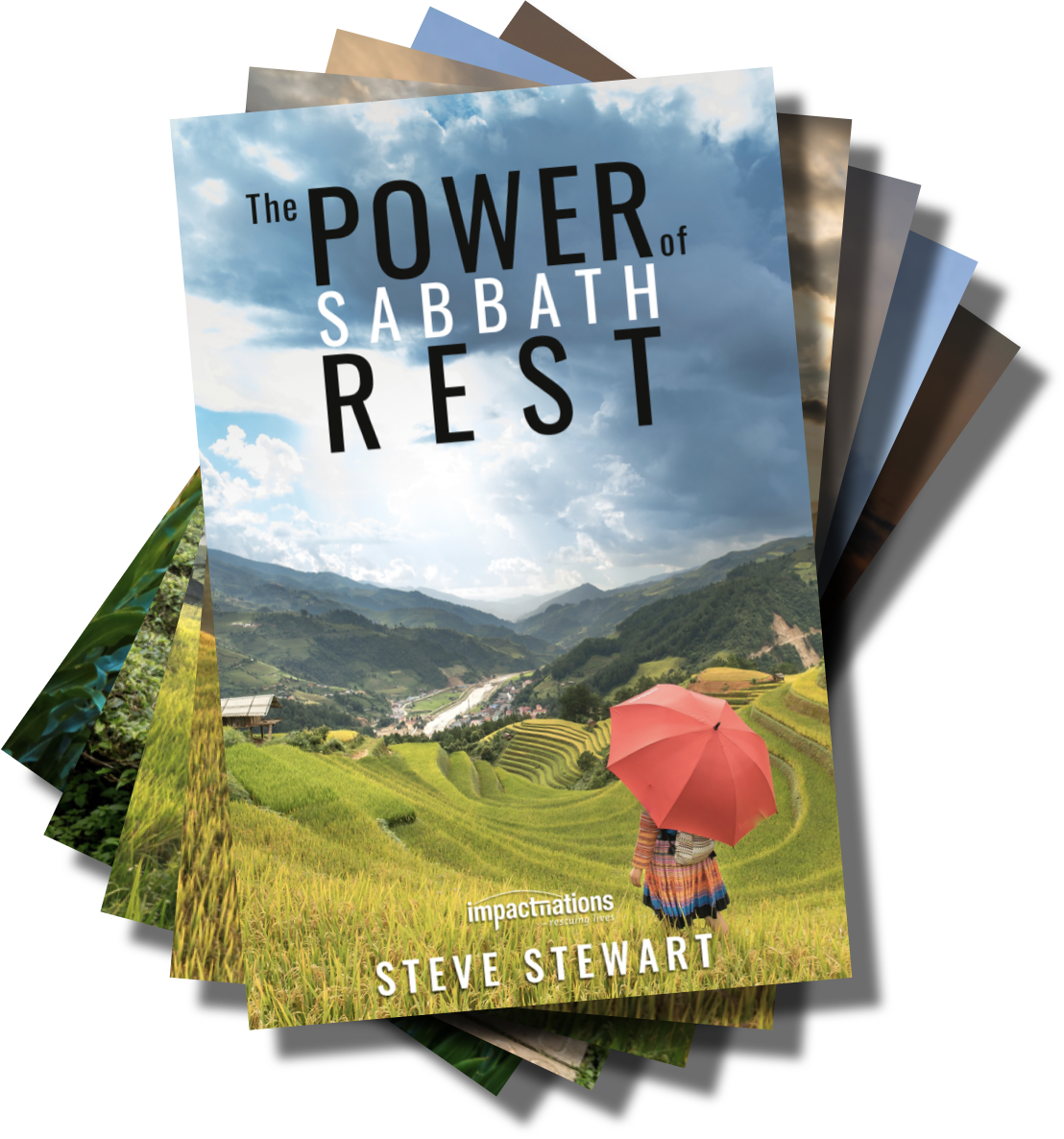 ---
Live with Brad Jersak
---
The Beatitudes Part 3
Tonight, Steve is teaching from Matthew 5:4 "Blessed are those who mourn..."
Don't miss our Global House Church! We will be gathering together for worship, communion, and fellowship immediately following this teaching. Check the chat in the lower right of your screen towards the end of tonight's teaching to get the link for our Zoom chat.
---
MIKE IS FEEDING QUARANTINED FAMILIES IN KENYA
Our friend, Mike Brawan, is feeding families who are suffering during the quarantine. He is also distributing soap, which is very hard for people to come by.
---
COVID-19 IN UGANDA
We were joined by our friend, Richard, as he described life in Uganda during COVID-19. We even invited YOU to be a part of the conversation.
---
Join us LIVE Friday March 27 at 2pm MDT
We will be joined by our friend, Richard, as he describes life in Uganda during COVID-19. YOU can be a part of the conversation.
---
When You Pray
In this time of equipping, we want to share a few of the e-books Steve has written over the years. While he is still working on a very relevant e-book on the topic of rest and sabbath, we want to share his e-book on the Lord's Prayer. Download When You Pray here.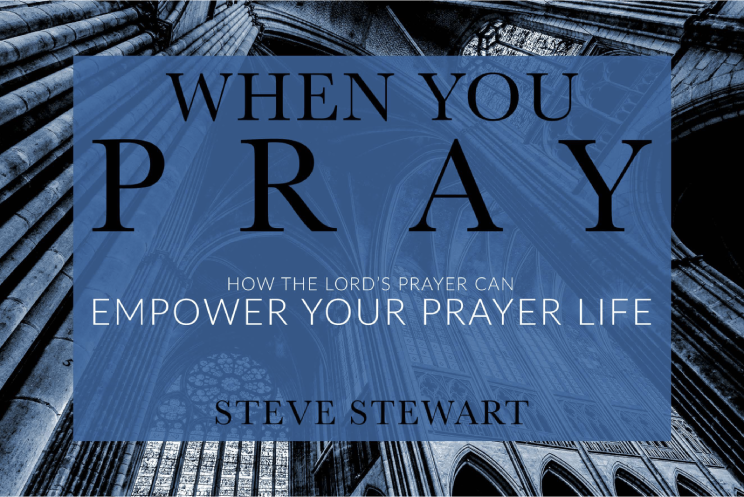 ---
The Beatitudes Part 2 Live at 7:30pm MDT, Tuesday March 24
"Blessed are the poor in Spirit, for theirs is the Kingdom of Heaven" Matt 5:3
This, the first Beatitude, is the key that opens the entire Sermon on the Mount, for everything that follows flows from its truth.
---
Impact Nations Podcast Live at 2pm MDT, Monday March 23
Join in the conversation! We will be chatting with Steve Sjogren at 2pm MDT, but by 2:45pm we will be sharing the Zoom meeting code so that you can ask Steve your questions or share with us a story of how you have seen God work through servant evangelism.
---
Introducing the new Family page
Tim, Isaiah, and Steve discuss the purpose of this new gathering place
---
The Beautitudes Part 1